To configure your account fully to send transactions with 3-D Secure v1; EMV 3-D Secure (3-D Secure v2); or an exemption, you must first review and complete the following.
Check that you have entered your Merchant Category Code (MCC) in the Merchant Management System (MMS).
Your MCC can be obtained from your Acquirer if you do not know this. Your MCC must be entered in the MMS 'Preferences' Section, under the 'Credentials' Tab.

Check you have entered your website in the MMS
This will need to be your valid https website URL.
Your website must be entered in the MMS 'Dashboard' Section, under the 'Account Contacts' Tab. To add this, select 'Modify Contacts' then enter the full https URL in the 'Website' field.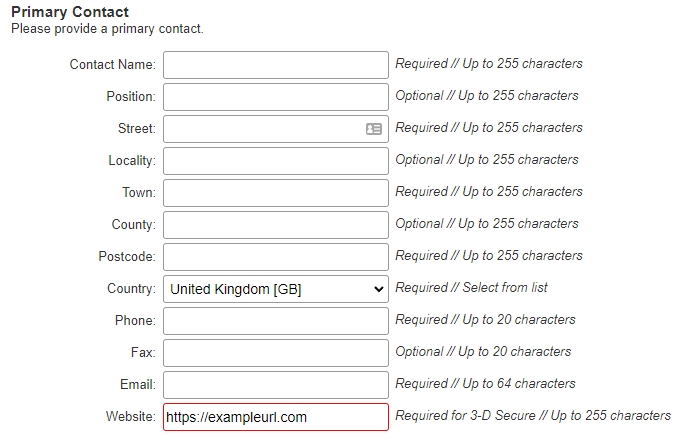 Check that your 3DS settings are fully configured
Your 3DS settings are located in the MMS in the 'Preferences' Section, under the '3DS Checks' Tab.
If you are unable to configure the above 3DS Preferences or do not have this Tab, please contact Cardstream Support.
To process all transactions with 3-D Secure, you will need to set 3-D Secure Required to 'Yes' and 'Reject' all non 3DS authenticated transactions, as detailed below: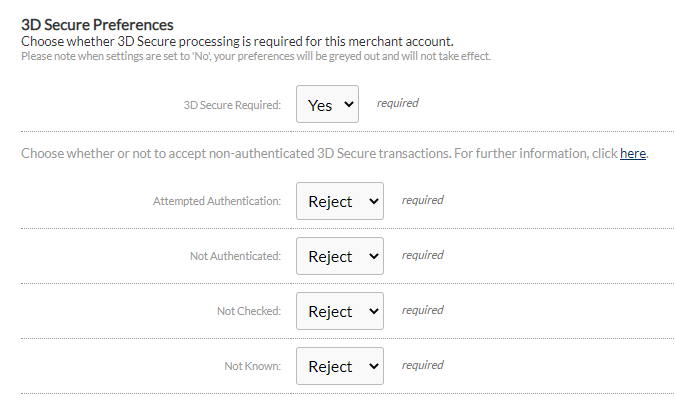 4) Check your exemption request settings
You can set your SCA exemption request settings in the MMS 'Preferences' Section, under the 'PSD2 SCA' tab.
This will allow the Gateway to request an exemption automatically on your behalf, should you wish to request exemptions on a per transaction basis, this will need to be set in the scaExemption field in your transaction request.
The actual exemptions requested will depend on those supported by your Acquirer. For further information, please contact your Acquirer.