How can I integrate to the Gateway?
You can either integrate using our Direct Integration or one of our Hosted methods, allowing for different levels of control and communication from the Merchants website.
How can I use the Hosted Integration?
What can they do?
You can choose to use Hosted Fields or Hosted Forms using the Hosted Integration. These are both features to help your Merchants to take payments securely, without sensitive card details touching their servers. Hosted Forms allow Merchants to redirect customers to a payment page to collect payment details; whereas Hosted Fields allow them to collect the data using a series of payment fields that can be integrated into their own website. Both methods use Cardstream's servers rather than your Merchants' to process the payment, relieving them of any PCI security concerns.
Hosted Forms
With the Hosted Form method, your Merchant's customer is passed to the Cardstream gateway where they then enter their card details and receive a response for the transaction, before being re-directed back to your merchant's website. In this scenario, no secure certificate is necessary, and the user experience is similar to direct integration. This is the simplest way to integrate with Cardstream.
Our standard hosted form carries minimal branding so as not to detract from your own branding. If you prefer, it can be customised with a branded header and footer for your company.
The Hosted HTTP integration works by redirecting the Customer to the Gateway's Hosted Payment Page, which will gather the Customer's payment details and send them to the Gateway on your behalf. This allows you the quickest path to integrating with the Gateway. If you wish to take card details on your website or style your payment pages, then you either need to use the Direct integration or use the Hosted integration and request a Custom Hosted Payment Page for your website. Unlike the Direct method, your website does not need to have an SSL Certificate, and PCI compliance becomes more straightforward.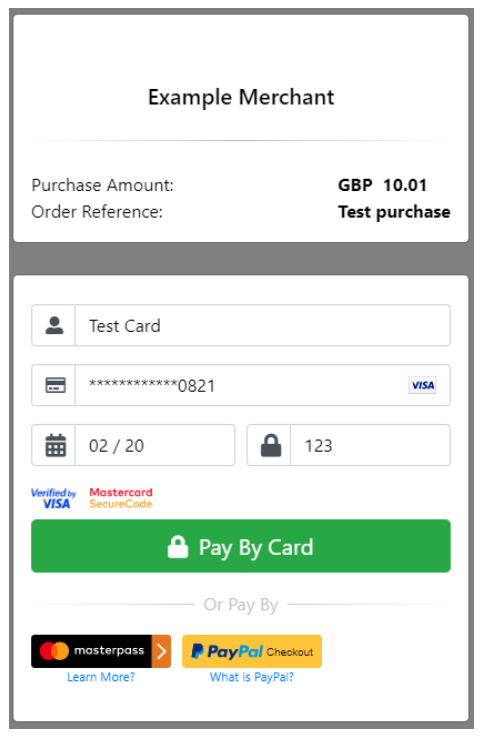 Hosted Forms v2
Our current implementation of hosted form, is a single webpage form, containing all required fields, which once complete posts directly to our Direct endpoint. Hosted Forms v2 allow the customer to select from previously used cards, can accommodate further alternative payment methods, is responsive and you can apply your own branding to the payment page.
It also allows for payment to be taken without needing to refresh the page, making a seamless transaction.
Hosted Fields
Hosted Payment Fields are a set of prebuilt JavaScript UI components that can be used by your website's HTML payment form to collect sensitive payment details without those details touching your server. They provide you with the PCI benefits of using a Hosted Payment Page, while allowing you the ability to design and implement your own payment forms. There are 6 predefined Hosted Payment Fields available as follows:
cardNumber – collects the card number.
cardCVV – collects the card cvv.
cardExpiryDate – collects the card expiry month and year.
cardStartDate – collects the card start/issue month and year.
cardIssueNumber – collects the card issue number.
cardDetails – collects the card number, expiry date and cvv in a single field.
How can I use the Direct Integration?
The Direct Integration works by allowing you to keep the Customer on your system throughout the checkout process, collecting the Customer's payment details on your own secure server before sending the collected data to our Gateway for processing. This allows you to provide a smoother, more complete checkout process to the Customer.
Direct integration is more complex than the hosted forms method, but it does mean that the entire shopping process can occur within your merchants' websites, providing a seamless experience for their customers.
As a white-label payment gateway Partner, the direct integration is fully branded as your own; sits on your URL with your logo and branding; and provides your merchants with your own test credentials.
For more information about how to integrate using either the Hosted or Direct methods see our Gateway Integration Guide.
| | | |
| --- | --- | --- |
| | Hosted Integration | Direct Integration |
| PCI DSS Compliance Level | Low | High |
| SSL Certificate Required | No | Yes |
| Development Knowledge Required | No | Yes |
| Fully branded | No, but customisation options available. | Yes |
Article Posted 6 April 2021