Password Resets

If you cannot remember your password, you can request a password reset by clicking the "Forgot Password?" option next to the password box. Alternatively, if you are the registered owner of the account, you can e-mail Cardstream Support and request a password reset. The Support Team will activate the request and have the reset link automatically e-mailed to you.
Click the link in the password reset email and then enter your Username to reset your password: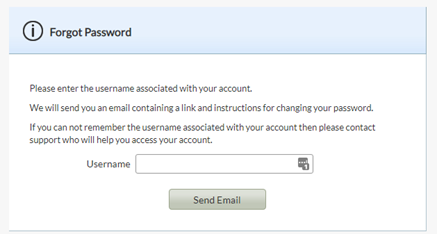 If you have entered your password incorrectly 4 or more times, your account will be locked, and you will either need to wait for 30 minutes. Or you can send an email to Cardstream Support from the registered e-mail address and username that you use to log in with, requesting your account to be unlocked.
Additional User Set-ups
Merchants can have additional users if required, there is no limit imposed on the number of additional users. If a Merchant needs additional users to be set-up the process is easy. The Merchant should send an e-mail to the Support team containing the users:
Full Name
E-mail Address
Required User Group (defaulted to 'Administrator' if not supplied)
A full list of available User Groups can be found below.
User Groups on the Merchant Management System (MMS)

Users of the Gateway can have multiple users, Merchants can also request different permissions for each user where required. Below are the different user groups for Merchants:
| | |
| --- | --- |
| Group | Description |
| Administrator | Can view and edit all data within the MMS and process all transaction types. |
| Managers | Can do all transaction types and can view all data within the MMS but cannot change anything. |
| Supervisors | Unable to process Refunds or Credits but can view and change all data in MMS. |
| Support | Can only process Sales and PreAuths and can view all data within the MMS but cannot make changes. |
| Monitors | Can view all data but cannot make changes. Cannot perform any transaction type. |
| Web Developers | Access to Preferences only. Cannot do anything else in the MMS. |
| NoPrefs | Perform all transaction types and view all data. Cannot edit the Preferences. |
| Support (Refunds) | Can view all data within the MMS but cannot make changes. Can also process Refunds/Cancels. |
| Admin (No Credits) | Can view and edit all data within the MMS. Can process all transaction types, apart from Credits. |
| Monitor and Refund | The user can view everything and only process refunds. |
| VT Only User | The user can only process Sales on the VT, no access to other tabs (must also select Support). |
| No Pay Button | The user can only process Sales on the VT, no access to other tabs (must also select Support). |
| No Virtual Terminal | Removes the VT from the user's view (must also select one of the first 5 groups). |
| Trans and MID Data Only | Allows the user to view the Transaction History and Merchant Accounts only. |
| Pay Button Only | Access to Pay Button tab only (can be joined to other Groups if needed). |
| RT Agreements | This will allow the user to process Sales but not Refunds and the ability to create RT Agreements. |
| Accountants | This allows the user to have an overview of everything but cannot make changes or process any type of transaction. |