Configuring Kount

To successfully set-up Kount on the Gateway, you'll need the following credentials for your Kount account:
Merchant ID
Site ID
API Key
Following the next steps, you will be able to configure and use this powerful tool.
First, login to your MMS and select the appropriate Merchant Account you wish to use with Kount. Under the Preferences tab, you should be able to see "Risk Checking Preferences" – if not, please contact the Support team.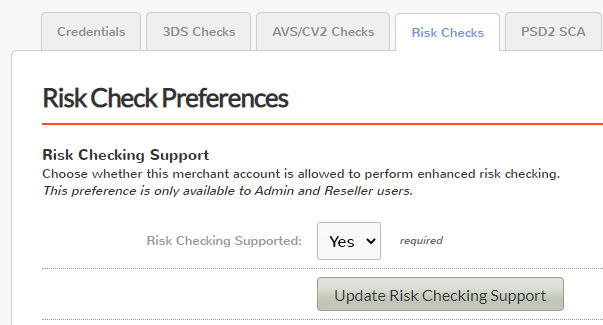 Select 'Yes', and click 'Update Risk Checking Support' button, once complete you'll see further parameters to configure.
Select 'Yes' under Risk Checking Required field.
In the three first fields, you need to supply the information that you received from Kount: the Merchant ID, Site ID, and API Key.
The Merchant ID will be given to you by Kount, Or can be seen To create the API Key, log into your Kount account via the Agent Web Console (AWC) and create your own API-Key and use this to populate the field within the MMS.
The Site ID is the gateway Merchant ID and will need to be added to Kount and the MMS set-up.
In the Agent Web Console, you can find also find a detailed breakdown of your transactions: frequency, location etc. You are also able to configure your own rules to confirm when you want to be notified if something happens (e.g. more than 4 different transactions have the same email).
How to add a website/Site ID:
In the top right corner of Kount you will see "Fraud Control" , and then, "Websites"
Select to "add Website"
Input the Gateway Merchant ID:
How to create the API Key:
In the top right of Kount you will find Admin, and then, API Keys:
Once within the API Keys configuration, simply click 'Create API Key' which will then be copied across to the MMS.
When creating the API Key be sure that RIS is selected as below, API is optional: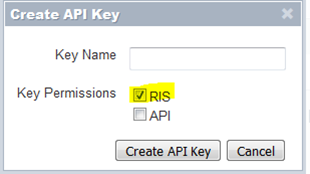 With the other options, you can choose the actions to dependent on the risk state that is returned. Further details on the Risk Checking Preferences can be found here.