What is SecurePlus?
Union Pay's SecurePlus is available if you have a Planet Merchant account. It provides a secure e-commerce payment solution designed for Merchants who want to reduce the risk of fraudulent transactions whilst providing a friction-free payment process for consumers.
To use SecurePlus you will be supplied with a separate Planet Merchant Account that can be grouped with your main Merchant Account using the account mapping facility in your Merchant Management System. (MMS).
SecurePlus transactions will appear in your MMS alongside any card payments and can be captured, cancelled and refunded in the same way as card payments.
SecurePlus transactions can also be used for recurring billing with the SMS authentication not required on recurring transactions if the initial transaction was successfully SMS authenticated.
Benefits of SecurePlus:
SecurePlus offers several advantages:
Reduced friction
Allows for the acceptance of debit cards without rerouting to the UnionPay Hosted Payment page reducing friction from internet issues.
Improved authentication process
SecurePlus divides the online payment process into separate authentication and authorisation transaction flows that authenticates the cardholder's identity before you submit the authorisation request.
Authentication is achieved by UnionPay sending an SMS text to the cardholder's mobile phone with a unique 6-digit code that is validated prior to the authorisation: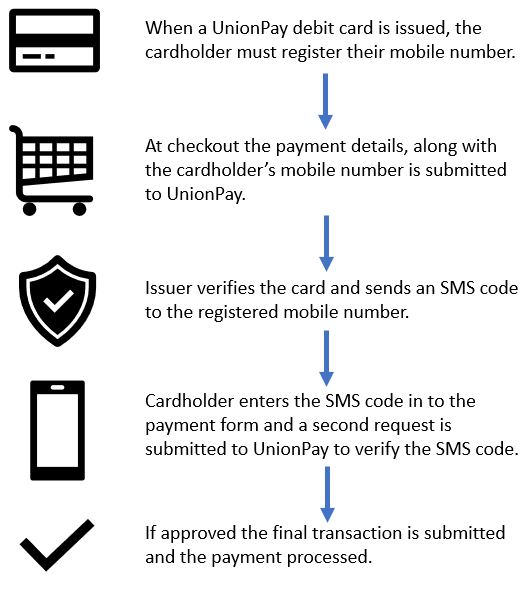 Support for a wide range of currencies
The following currencies are currently supported:
| | |
| --- | --- |
| Currency Code | Currency |
| CAD | Canadian Dollar |
| CNY | Chinese Yuan |
| HKD | Hong Kong Dollar |
| KRW | South Korean Wong |
| SGD | Singapore Dollar |
| TWD | New Taiwan Dollar |
| USD | US Dollar |